Table 1: Registration of tembotrione in China as of 28 Feb., 2022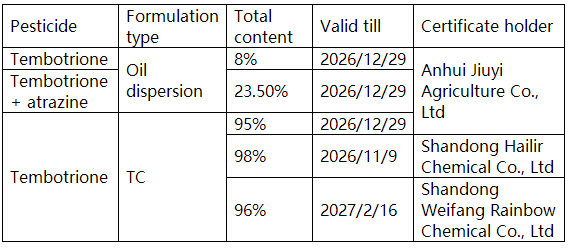 Source: ICAMA
Tembotrione, triketone compound obtained by Bayer by optimizing the structure of sulcotrione, enjoys higher activity than that of mesotrione, the leading product of HPPD inhibitor herbicide, with shorter application period and more resistance to rain erosion.
Tembotrione is used together with isoxadifen-ethyl safener mainly in corn fields to control cockspur grass and other annual weeds. Tembotrione has obtained registration in such countries as Belgium, France, Brazil, the United States. It is still one of Bayer's best-selling products in such main markets as Brazil (about 50%) and the United States (about 10%).
On 8 Sept., 2019, the compound patent of tembotrione in China expired. As tembotrione is an important herbicide for corn field across the globe, the expiration of the patent of tembotrione has triggered competition among domestic companies for development.
Anhui Jiuyi marked the beginning of tembotrione's entry into China's markets.
On 14 Oct., 2021, tembotrione TC of Anhui Jiuyi Agriculture Co., Ltd (Anhui Jiuyi) obtained equivalent EU certification. This is an important milestone achievement that Jiuyi made in its new product research and development.
On 9 Nov., 2021, Shandong Hailir Chemical Co., Ltd obtained registration certificate for 98% tembotrione TC. It is the first registration certificate for 98% tembotrione in China.
On 29 Dec., 2021, Anhui Jiuyi Agriculture Co., Ltd (Anhui Jiuyi) obtained the first 3 registration certificates for tembotrione products, including 2 for formulation. Anhui Jiuyi is the first company to obtain the registration certificate for tembotrione formulation. Anhui Jiuyi said that the registration of tembotrione in China will create a new growth point for the company to expand domestic and foreign markets in the future, and lay a solid foundation for the company's sustainable and healthy development.
——Reprinted to https://news.agropages.com